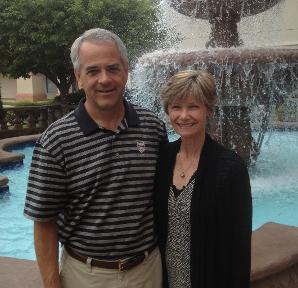 Mark and Brenda Bixler joined in the work of this church family in August, 2016. The Bixlers have worked with churches in Braunschweig, Germany, Missoula, Montana, Enumclaw, Washington,and Santa Clarita, California.
They have now been in California for 26 years-- more than anyplace else-- and therefore believe they should qualify as natives. Both Mark and Brenda, however, did spend their childhood years in Arkansas, where they met as students at Harding University. Mark continued his studies at Harding School of Theology, where he received a Master of Arts in Religion. When she began teaching in California, Brenda returned to school to get her California teaching credential and Master of Arts in Education at Pepperdine University.
Before retiring Brenda taught in the Saugus Union School District in Santa Clarita and in addition to preaching, Mark also produces multi-media assembly programs for schools that encourage positive choices, such as avoiding bullying and substance abuse. These are shown on three large screens at hundreds of schools across the country by several presenters.
Of course, Mark believes that the ultimate positive choice that will make a permanent difference for any person of any age is to pattern their life on that of Christ. With that in mind, much of his preaching is focused on the issues that Jesus' first followers faced, and on the challenges that any follower will face today.
Mark and Brenda have two adult children, Mindy and Jeremy. Mindy lives with them, and Jeremy lives in Portland, Oregon.